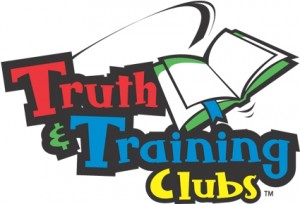 The name Truth & Training reflects the passion of Awana to teach third- through sixth-grade boys and girls the truth of God's Word and to train them to follow Christ in their daily lives. Our goal is that many of today's young people will become tomorrow's church leaders. T&T is the program that trains the leaders of tomorrow — today.
Exciting features to get kids excited about God's Word
T&T is equipped with a variety of dynamic tools to accomplish this mission:
Four handbooks of increasing difficulty which teach children that life's ultimate adventure is a personal relationship with Jesus Christ
A cast of fun characters that boys and girls learn from and follow on interesting journeys in the handbooks
Weekly meetings that expose children to the gospel message, Scripture memory, Bible study, awards, team-oriented games and gut-busting fun
A Bible-centered curriculum that helps kids build a firm foundation for their faith, hide God's Word in their heart and apply the truths of Scripture to their daily lives
Interactive CDs that use exciting high-tech games to teach and reinforce key biblical truths
Evangelism and discipleship go hand in hand in our third- through sixth-grade program. By the time a child has completed T&T, he will have:
Learned and reviewed approximately 310 verses
Studied dozens of passages from the Old and New Testament
Regularly heard and read the gospel message
Discovered the Bible's response to questions like "How does God want me to live my life?" and memorized verses to back up these answers
Completed missions projects that help him see the world through God's eyes.
 The 3rd & 4th Graders will participate in an Ultimate Adventure! They will complete a Start Zone and then be awarded their Ultimate Adventure 1 book. Clubbers will receive a Streamwood the Dog red award bar and display award bones. Ultimate Adventure 2 is for the 4th Grade year and will be awarded a new blue award bar.
The 5th & 6th Graders will participate in an Ultimate Challenge! They will complete a Start Zone and then be awarded their Ultimate Challenge Handbook. Clubbers will be awarded badges to placed on either of the white award areas on the uniform jersey. Parents who would prefer not to sew on badges may purchase Badge Magic Sheets for $8.25.
Requirements for Passing Sections:
At home the child learns and recites sections to a parent or completes the required activity with Mom or Dad. Please note this is a great teaching moment! Explain what the Bible verse means and how it applies to each of your lives.
Parent's signature or initials indicates that the work has been completed and Clubbers will receive 50 extra points per section.
At Club, the Clubber recites each section to his/her Leader. Two helps may be given for each section.
Leader's signature certifies that the section has been passed.
Clubber of the Month:  If a Clubber attends Club regularly, is on task with Scripture memory – always trying hard to say their sections – shows good sportsmanship on the Game Square, and/or good fruits of the spirit they could be nominated for Clubber of the Month. The award is a certificate, five (5) AWANA dollars, and their picture is taken for the AWANA video to be shown on AWANA Sundays at Country Oaks Baptist Church.
AWANA Games:  Each Club Night Clubbers are required to be in appropriate foot wear, tennis shoes are the best!
Awards:  Nightly – T&T Clubbers are allowed team points for all sections completed per Club night: 100 points per section, 50 points if initialed by Mom or Dad.
Extra Credit Silver and Gold: 500 points for each section that is completed.
AWANA Dollars are given to Clubbers if their Team Color wins or if they participated in the "Theme" night. In December and in April, T&T will have a Store and Auction so the Clubbers may purchase items.
Truth & Training Directors:
Rob  Podratz @ 823-0217
Truth and Training Registration Forms: Truth and Training Registration Form