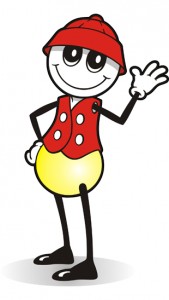 The Sparks club for children in kindergarten through second grade builds on the material taught in our preschool club. The aim of the curriculum is to take youngsters a step deeper into God's Word while giving unsaved boys and girls regular opportunities to hear the gospel and come to faith in Jesus Christ. After being immersed in solid foundational teaching at the preschool level, boys and girls frequently come to an understanding of their need to trust Christ as their personal Savior while in Sparks.
Immersing kids in God's Word
The Sparks program is firmly grounded in Scripture. The three handbooks feature:
* Basic truths about God, Jesus Christ, salvation and the Bible
* An increased emphasis on Scripture memory over our preschool materials. In three years, a child will learn and review 68 verses, many of which cover salvation and key Christian doctrine
* Clear and consistent presentation of the gospel message
Fun learning = results
Sparks club meetings combine learning with fun to create an atmosphere of irresistible excitement for churched and unchurched kids alike. Club meetings are divided into three segments:
* Bible teaching, worship, award presentations and the gospel message
* Small group interaction and completion of Bible-based lessons
* Age-appropriate games on the Awana game circle
Along the way, Sparky, the friendly firefly, encourages boys and girls to learn verses and complete assignments throughout the three handbooks.
Director:  Dave Goodell and Secretary:  Jennifer Whitney
Sparks Registration Form:  Sparks Registration Form
Handbooks: Sparks will receive a Flight 3:16 handbook on their first club night. Once completed, the child will receive their HangGlider handbook and be eligible to purchase their vest. The following books are WingRunner and SkyStormer.
Requirements for Passing Sections:
At home, Mom or Dad reads the biography or lesson before each verse or activity with their Clubber and helps them learn their verse by memory. A CD is included in each handbook which makes the car an ideal place to learn and review.
When a lesson and verse is complete, Mom or Dad initials next to each verse so the Leader knows what the Clubber has memorized. Each signature earns points for their team, up to four (4) verses.
At Club, the Sparks recite each verse and reference (ex. John 3:16) to their Leader. Two (2) helps may be given for each section. A "help" is any sort of assistance and should not include more than 3 or 4 words. It is intended for one (1) Handbook to be completed each year.
A Leader's signature certifies that the section has been passed. Each section earns their team points, up to four (4) sections a Club night.
What are points awarded for?
For each section completed. (Maximum of four)
For parent's initials by each section. (Maximum of four)
Game Time for winning and/or good sportsmanship.
Bringing a friend to club.
Sparky Store: Clubbers may use their Awana Dollars at the Sparky Store held in December and April.
What are points for? At the end of each Club night, Sparks on the team with the most points are awarded three (3) Awana Dollars. Sparkies on the team with the second most points are awarded one (1) Awana Dollar.
What other ways can Sparks earn Awana Dollars?
Bring their Bible to Club
Participating in Theme Night
Bring a friend on "Bring – a – Friend Night"
Awards:  Clubbers receive a badge corresponding to the book they are in and then receive a set of wings for which jewels will be earned.  New this year! Parents who do not want to sew their child's badges may purchase Badge Magic Sheets for $5.50.  Clubbers who complete their books for the year will receive a special award at the Year End Awards Night.
Fees: Vest ($ 15.00) – Replacement Cost for Handbook ($10.00)
Sparks-A-Rama: Sparks-A-Rama is scheduled for March 9th. It is a day where our club competes with local Sparks Clubs in the games we play on Wednesday nights.  Requirements for participating and practice dates will be announced later in the year.